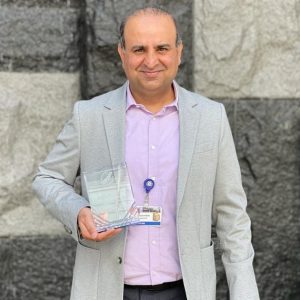 Dr. Bakht Roshan is a graduate of AKU Class of 2000 and an Infectious Disease specialist affiliated with Madera Commonity Hospital (MCH), Madera, California. In order to prepare for the COVID-19 surge, MCH formed a committee which was led by Dr. Roshan. This committee remained instrumental against challenges of COVID-19. Dr. Roshan also spearheaded the efforts to secure, promote, and prescribe monoclonal antibody treatment to COVID-19 patients. In recognition of Dr. Roshan's exemplary leadership for combating the COVID-19 pandemic, Madera Department of Public Health has selected Dr. Roshan for the esteemed "Public Health Champion Award".
Addressing the Board of Supervisors of Madera County, Dr. Roshan acknowledged the support from his family, the administration of MCH, Madera Department of Public Health, and his fellow physicians serving on the MCH COVID-19 committee.
Dr. Roshan and other AKU alumni continue to make us all proud of their wonderful achievements.
Regards,

Faisal H. Cheema
President | AKUAANA

On behalf of AKUAANA EC [President: Faisal Cheema | Secretary: Abdul Waheed | Treasurer: Tauseef ur Rehman | Immediate Past President: Namirah Jamshed | Ex-Officio Member: Abdul Basit Saeed]