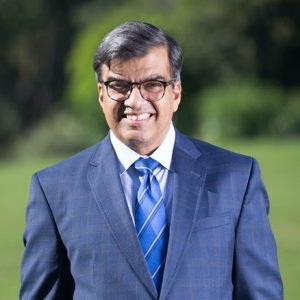 Dear AKUAANA Family:
One of our own has made us immensely proud yet again.
The National Institute of Arthritis and Musculoskeletal and Skin Diseases has awarded a 5-year, $4.2 million grant to study sporadic inclusion body myositis (sIBM), which affects aging adults causing asymmetric muscle weakness and severe disability, to Tahseen Mozaffar, MD, an alumnus from the AKU Class of 1989. Dr Mozaffar is a lifetime member and past president of AKUAANA, and currently a professor of neurology, orthopaedic surgery, and pathology and laboratory medicine, and director of the Division of Neuromuscular Disorders and the UCI-MDA ALS and Neuromuscular Center at University of California Irvine's School of Medicine. Dr. Mozaffar was on faculty at AKU from 1997-2000, and has been on faculty at UC Irvine since 2000.
sIBM is currently untreatable and poorly understood and this research project aims to provide a detailed characterization of sIBM disease progression over a two-year period and explore biomarkers associated with the disease, along with their influence on disease behavior and progression. This study will be the largest of its kind, enrolling 150 subjects, with a planned two-year follow up, the longest duration to date. This funding will enable to conduct the observational study needed to study the disease phenotype, explore factors that influence disease progression and behavior, and ultimately direct future clinical trials designed to uncover potential treatments. Dr. Mozaffar is one of the international leaders in translational and clinical research in rare and ultrarare neuromuscular disorders, and advises the NIH, non-profit disease foundations, and many pharmaceutical companies on translational research in these diseases.
Please join AKUAANA in congratulating Dr. Tahseen Mozaffar on this amazing feat.
Regards,

Faisal H. Cheema
President | AKUAANA

On behalf of AKUAANA EC [President: Faisal Cheema | Secretary: Abdul Waheed | Treasurer: Tauseef ur Rehman | Immediate Past President: Namirah Jamshed | Ex-Officio Member: Abdul Basit Saeed]