Dr. Nushmia Zia Khokhar, from the Class of 1997, has been appointed Chief Medical Officer of Umoja Biopharma, a biotechnology company based in Seattle, WA.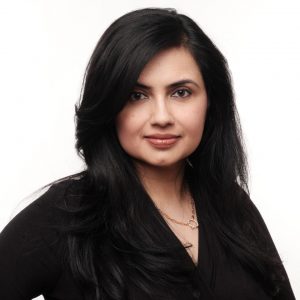 Dr. Khokhar is an accomplished oncologist who has spent a significant portion of her career overseeing the transition of novel cancer therapeutics from discovery to clinical development. Prior to joining Umoja, Dr. Khokhar was the Senior Vice President, Head of Clinical Development at Autolus therapeutics where she played a critical role in advancing the company's autologous T-cell products and clinical programs. She also held numerous roles at Janssen Oncology, leading several successful clinical trials, directing the Phase 3 registration trial of Yondelis in soft tissue sarcomas, and serving as the Global Clinical Leader for the breakthrough therapy daratumumab (Darzalex) for hematologic cancers. Dr. Khokhar completed a post-doctoral fellowship at Memorial Sloan-Kettering Cancer Center with a focus on pharmacology and molecular therapeutics. She did her residency in Internal Medicine at Washington Hospital Center in Washington, D.C. prior to completing a Hematology/Oncology Fellowship at the Northwestern University Feinberg School of Medicine, Chicago, IL.
Umoja Biopharma is advancing a new approach to immunotherapy by retooling a patient's immune system powered by an integrated in vivo cellular immunotherapy platform. Dr. Khokar aspires to harness a powerful immune response in the body to directly, safely, and controllably address cancer.
AKUAANA would like to extend our congratulations to Dr. Nushmia Zia Khokhar and wish her continued success.
Regards,

Faisal H. Cheema
President | AKUAANA

On behalf of AKUAANA EC [President: Faisal Cheema | Secretary: Abdul Waheed | Treasurer: Tauseef ur Rehman | Immediate Past President: Namirah Jamshed | Ex-Officio Member: Abdul Basit Saeed]