It has been a while since we have had an alumnus highlighted on our website. To restart this feature, we are highlighting Anita Zaidi, Class of 1988, who is currently the Director of the Enteric and Diarrheal Disease program at the Bill and Melinda Gates Foundation.
Haider Warraich, Class of 2009, one of our past featured alumni put this interview together.
Faisal Qureshi
Immediate Past President, 2016 – 17
====================
When asked about the event that defines who she is, Anita Zaidi (AZ to those who have the privilege of knowing her well) doesn't talk about how she was recruited by Bill Gates himself to join his foundation, nor does she tell me about when she was nominated the Chair of the Department of Pediatrics at AKU, or when she graduated at the top of her class in medical school. She instead tells me of how, after graduating from medical school, she spent a year in Gilgit working to improve the health facilities there.
"I always had the seeds of interest in research but this brought it all together. We live such a sheltered life in Pakistan and are not exposed to the problems of poor people. I stayed in Booni, where they had a Shigella epidemic that was traced to a chashma (stream). There was a Measles outbreak in the Waacaan corridor right next to the border and I had to stay there too. This was my calling."
Knowing AZ, this wasn't surprising, but what I really wanted to know was how her parents allowed her to go in the first place. "I don't even remember asking my parents, I remember just telling them. We were an all girls family and our parents really wanted us to reach our full potential. If anything, they were always trying to slow me down because I worked all the time, studied all the time."
The role AZ's parents played in her life is clear. Her father was an anesthesiologist by training but his true passion was sports. He trained himself in sports medicine and became an international authority on doping and performance enhancing drugs. He would eventually become a judge for the International Hockey Federation. It was her father who nudged her into picking AKU over Dow, a considerable risk given that AKU hadn't yet finished the facility to house the students in. "I found out that I was the first person to come in and give my application." She recalled the staff member who received her application telling her, "Hum baray khush hoye koi apply bhi kar raha hai (We are pretty happy that at least some one is applying)."
After graduating from AKU and after her year in Gilgit, AZ went to Duke University for a residency in pediatrics. At that time, her husband, Dr Saad Shafqat was completing his PhD in neurosciences. After finishing her residency, the couple moved to Boston for an Infectious Diseases fellowship at Children's Hospital Boston. Once this concluded, she moved back to Pakistan where she joined AKU as a faculty member, and moved up the ranks until she was elected the Chair of the Department.
During her time at AKU, she was well-known as one of the best faculty mentors and helped many students such as myself advance their careers. Even as she got busier and busier, she made it a point to keep mentoring students and residents. "I really enjoy working with young people. Infectious Diseases was not an established field back then. Inspiring young people to go into this field and helping people in Pakistan develop interesting careers was very gratifying."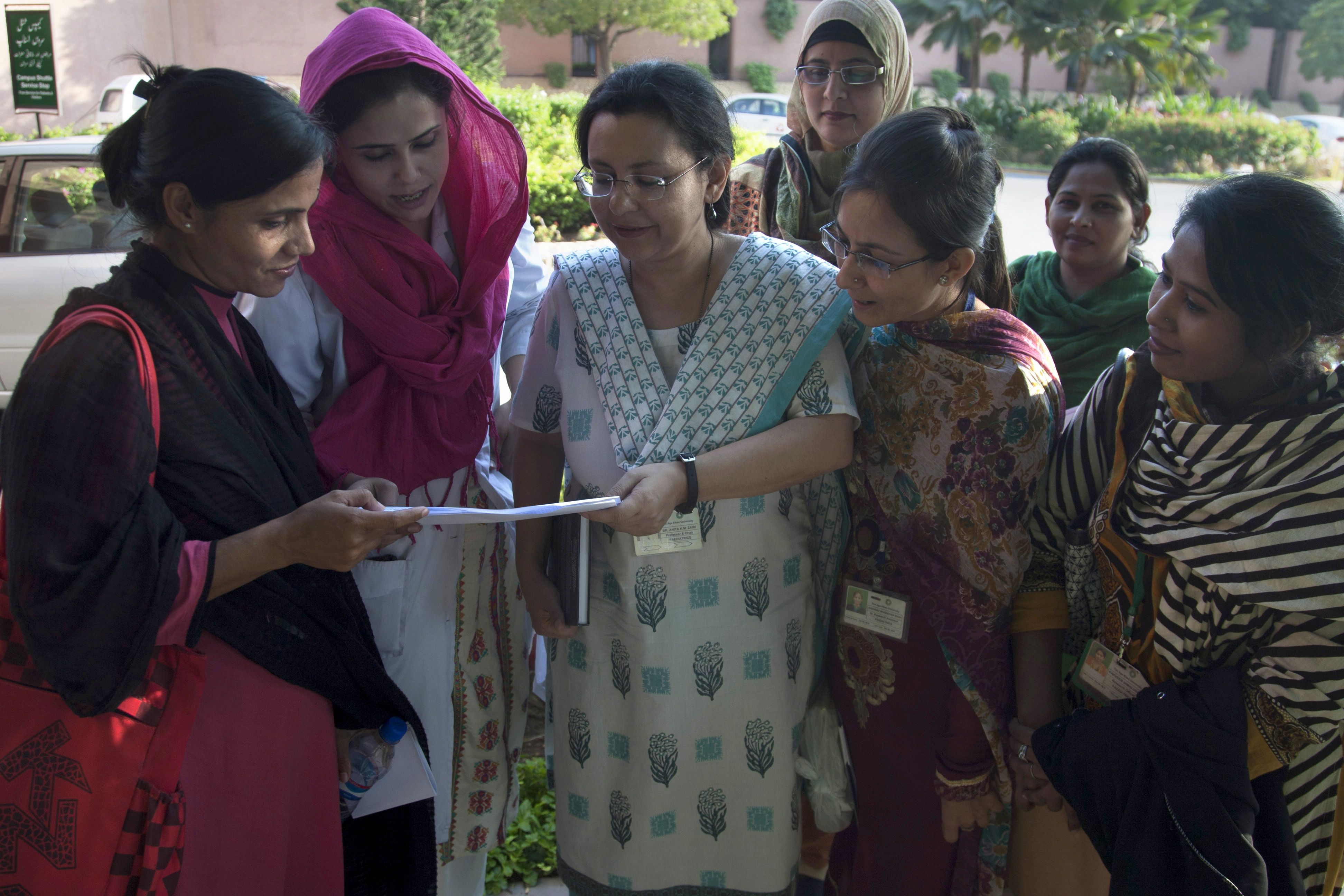 Tuesday, Dec. 10, 2013: Anita Zaidi (center) who heads the pediatrics department at AKU, shows a project plan to her colleagues. She won a $1 million grant to fight early child mortality in a small fishing village in southern Pakistan in a contest financed by an American entrepreneur to find innovative ways to save lives, the Caplow Children's Prize announced Tuesday. (AP Photo/Shakil Adil)
But it was an innocuous email, which she only glanced at before boarding a flight to Maldives, which lured her back to North America. The email was from the Bill & Melinda Gates Fund who were hoping to recruit her to be the Director of their global enteric diseases program. After months of deliberation, it was only after she flew to Seattle when she realized how much of an impact she could have in this position. A big selling point was Bill Gates himself who she spent an hour with. "He (Bill Gates) is a really amazing person – he knows so much it is mind blowing. Our conversation was very wide ranging." She paraphrased him asking, questions from, "In Pashtun culture, it is completely alien to beat women; so why are they (the Taliban) attacking female polio workers?" to "What do you think of KESC as a consumer?"
In her current position based out of Seattle, AZ is leading an initiative with the bold ambition of ridding the world of diarrheal deaths in children by 2030. She told me that currently, diarrheal deaths affect 4 in 1000 live births and that their goal is to bring that down to 1 in 1000. While this sounds radical, countries such as Sri Lanka have already achieved rates of less than 1 in 1000.
While her strategy involves spreading the use of effective vaccines against rotavirus and developing new vaccines for other common organisms, she also hopes to understand the mysterious process of stunting – in which kids' bodies and brains stop growing, primarily manifest as a lack of appetite. "We don't understand it biologically: how does living in a fecally contaminated environment affect your gut leading to the syndrome in which you don't get hungry? We think it is related to the exposure to highly contaminated environments leading to bacterial overload, leading to overcharged immune system, leading to appetite suppression."
As we age, not only do we start to grow into our future selves, we also start to outgrow those people or things we looked up to. When I was young, the most imposing thing I had ever seen was the fridge. If my mother wanted to prevent me from having something (candy, chocolates etc.) she would place them on top of the fridge. Soon though, I was tall enough to see the top of the fridge, and it turned out to be much dustier and boring than I had initially envisioned it. Something similar happens to the people we look up to, whose imperfections and inadequacies only become more evident as we grow older. Anita Zaidi, however, is one of the few people I know who only seems to get taller and more remarkable as time goes by.
====================
The AKUAANA website features an AKU alumnus every quarter. We want profiles to highlight various aspects of alumni careers/lives – academic and research, clinical, private practice, political achievements, social activism, philanthropy etc.
Profiles of other alumni highlighted on the website over the time can be viewed under the "Featured Alumni" category.
In order to nominate someone or self-nominate, email your nomination and information by email to secretary@akuaana.org.