As part of the anniversary celebrations of our alumni, we are highlighting an alumnus from each class achieving a milestone. As part of the 20th year anniversary for the Class of 1998, we kick off this series with Aasma Shaukat, Class of 1998. She has achieved tremendous success since graduating and we are very excited to present this profile to you.
Faisal Qureshi, '93
Past President, 2016 – 17

====================
1. Give me a quick summary of what you do exactly?
I am section chief of the gastroenterology section at the VA Hospital in Minnesota and I help run the GI fellowship at the University of Minnesota. I am a clinical researcher with focus on colon cancer screening and prevention.
2. What aspects of your education at AKU helped you the most in deciding your future trajectory?
AKU instilled in me the ability to think critically, question the status quo and come up with research questions and big picture questions that need to be answered to solve the world's largest public health problems. AKU provided me with a well-rounded exposure to basic and clinical fields.
3. What started you in gastroenterology?
I developed a strong interest in clinical research towards final year and pursued an MPH and post-doc at Johns Hopkins before my clinical training. During that time, I developed an interest in colon cancer prevention, where I saw a large need and potentially big impact in reducing cancer incidence and mortality. I went into residency with the plan of pursuing gastroenterology and focusing on colon cancer both clinical and from a research interest.
4. What type of community work do you participate in?
I've worked with non-profits, such as Preventing Colon Cancer (PCC) to improve colon cancer awareness and screening. March is colon cancer awareness month and I have written articles for newspapers, given radio interviews and organized local events through the University to promote colon cancer prevention.
5. What about national work in gastroenterology?
I've served on various committees for our three main GI societies on work related to quality metrics for colonoscopy, enhancing colonoscopy practice and other issues important to gastroenterologists. I am the American College of Gastroenterology's Governor for Minnesota, which means I get to collect information on issues faced by gastroenterologists in the state and present them at a national forum to look for solutions.
I have also met legislators in DC to advocate for improving research funding and removing barriers to colon cancer screening. I am a member of the US multi-society task force, which writes guidelines for colon cancer screening and surveillance for the US. I am a member of the VA's field advisory committee, that advises central office on policy for the entire VA.
It seems like a lot and it is, but it really gives me an opportunity to influence policy in our field.
6. What advice would you give young graduates from AKU and especially our young women in choosing and maintaining careers? How about mentorship opportunities?
Follow your heart and if there's a field or area that really pulls at your heart, pursue it. Try and see where you'd like to be in 10 years and set long term and short terms goals to get you there. Never take no for an answer and ask for help.
There is nothing that women can't do these days as effectively as men. In fact, recent research indicates women may do many things in medicine better than men! Women should not feel they have to give up anything, and it is possible to have a work life balance, a family and a successful academic career.
My husband is a gastroenterologist as well, which makes for a busy household. It does take a village to raise a family! To make it work, I rely on help. I have a nanny, good friends I can count and occasionally rely on grandmas when in a pinch. I do online shopping, even for groceries and have them delivered. I plan the week ahead and do some prep work for meals and tasks on the weekend. My husband and I have a 'divide and conquer' approach to complete tasks, and we frequently trade off. We also try to be mindful of giving each other some personal time to do things that we are passionate about. My husband enjoys biking and I enjoy running and we have set days to do these activities.
We have to be creative some days to fit it all in, and it doesn't always work, but we do our best. For example, some days when my youngest one wakes up at the crack of dawn, I put her in a jogging stroller and go for a run. Some days I will go for a short run after putting kids to bed. Being flexible helps but keep your goals in mind. I also travel a lot for presentations, conferences and meetings, which is tough with the kids' schedule, but lining up help in advance helps. It is definitely a give and take, and as long as you are willing to be realistic in your expectations and organized, you can make it work. I am very fortunate to have a husband who supports me as much as I support him.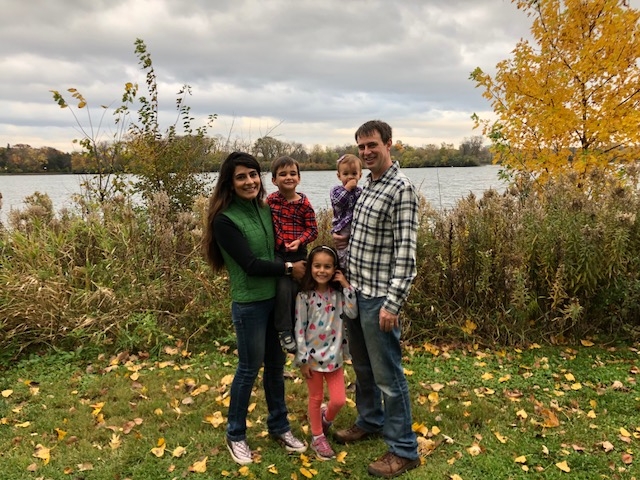 7. You pursued an MPH very early after graduating from AKU. How did this come about? What drove you to do this? How did it impact your long-term success?
I was inspired by several clinical faculty in medicine, psychiatry and yes, CHS. The field trips to 'kachi abadi' clinics during the CHS rotation exposed me to the concept of population health, and how we need to consider healthcare for the severely disadvantaged. I was also exposed to thinking about a clinical problem and framing it into a research project during the research project portion of the rotation. I knew I wanted to be a clinical researcher. During my electives one of my faculty told me that if I was serious about research I should pursue an MPH. I wanted to do it right away, and not interrupt clinical training.
It also helped timing-wise, since we graduate off cycle to be able to apply for residency. What better use of that time than an MPH! I came back from my electives in my final year and told all my class fellows that MPH is the way to go. I took the GRE and was fortunate to be accepted at Johns Hopkins that same year.
I focused on Epidemiology and Biostatistics during my MPH and learned the statistical software STATA. That enabled me to conduct studies independently and get an early start on my career. The MPH has been tremendously helpful in my career, for writing papers, asking a focused clinical question and designing study method and clinical trials. I am also able to appraise medical literature and research studies critically for patient care.
8. How many women division chiefs are there from AKU? Looking back, what aspects of your time at AKU prepped you to make the career leaps you've made?
I know of very few. Nasia (Class of '95) is the chief of research at University of Wisconsin; My colleague Ayesha Irshad (Class of '98) is the chair of psychiatry at AKU. I met Anita Zaidi, who is chair of Pediatrics at AKU now, but I got to know her before she left the US. I think AKU breeds ambition and that is what influenced me.
9. Writing grants and successful funding can be quite daunting; what tips do you have for our audience?
It is daunting! But like anything else, practice, practice, practice. Try to write every day, and like any other muscle, it improves with time. Try writing papers, reviews or anything that may interest you. Write with purpose and clarity. The best grants are the simplest ones. There are also grant writing workshops that can be helpful. Don't be afraid of failure. Learn to handle rejection. The only thing funded people have over you is more rejections. Get a research team together if possible and ask for feedback on your writing.
10. Looking back at your still very academically active career, were there any specific branch points/mentors that helped you make those correct decisions?
Dr. Faiz Ahmed was chair of Psychiatry and mentor for my student research project that I presented at a student conference in Germany. I really enjoyed that experience and those were the earliest seeds of a research career. During my elective, after listening to my ideas, my attending suggested I do an MPH, which I decided to pursue. That was a pivotal moment. Dr. Aamir Khan (Class of 93) was a post-doc at Johns Hopkins and he gave me great advice on career and life! He also helped me find a research position.
11. Do you think that the balance changes as women start residency, then become faculty and then have older kids?
It sure does. Having a family and kids really changes your focus and adds complexity to your life. But there is also a richness that it adds and I do believe you can make them work together. Get help, get family and create a good social network. Don't feel guilty about spending time with family or taking time off. I always have to remind myself that academic life is like running a marathon, not a sprint. You are in it for the long run, so take time and enjoy the journey.
12. If an AKU grad wanted to get involved with your work, what should they do? How do they prepare and how can they reach you?
Contact me and we can discuss your goals and interests and come up with something valuable for you to do. To prepare, it is always helpful to think of focused questions you want answered, that may be critical to your career at that point, and also have an idea of what you'd like to do. A well thought-out, put together plan is the first step to plotting your success to that 10-year goal.
13. What personal traits do you think have helped you succeed?
Hard work, perseverance, handling rejection and patience. I think we all have a healthy dose of grit in us, much of which was instilled during the (often grueling) years of AKU.
14. What do you think of AKUAANA? Where do you think the alumni organization is successful and what do you think it should be doing?
I support AKUAANA's missions and I am very thankful for the services it provides for AKU graduates and alumni. I think it is successful at connecting people, providing good role models and inspiring the younger AKU generations. It could formalize the mentorship and pairing of students to alumni in North America. I have found AKU alumni to be very helpful and supportive and I try to do the same.
====================
The AKUAANA website will feature an AKU alumnus from the classes celebrating their 20th, 25th and 30th year anniversary, over the year. Our aim is for profiles to highlight various aspects of alumni careers/lives – academic and research, clinical, private practice, political achievements, social activism, philanthropy etc.
Profiles of other alumni highlighted on the website over the time can be viewed under the "Featured Alumni" category.
In order to nominate someone or self-nominate, send your nomination and information by email to president@akuaana.org