Ameer Ali Khowaja, '06 and Tauseef ur Rehman, '07 hosted a fantastic regional reunion for AKU alumni in the Upper-Midwest (MN/WI/SD/ND) region, on March 19, 2016. They had a lovely turnout, with more than 20 alumni attending the event. I am sharing below a brief recap of the event, which the hosts were very kind to share with us.
Abdul Basit Saeed, '07
Web Manager, AKUAANA

====================
AKU Alumni Regional Upper-Midwest Reunion, March 2016
I came to Minnesota in the summer of 2009 for my Internal Medicine residency at Hennepin County Medical Center along with Tauseef Ur Rehman, '07 and Abdullah Ladha, '07. The substantial presence of AKU MC alumni in the state was a very pleasant surprise for all of us. From the apartment hunt in the first month of internship to Iftar invitations during the times we felt most homesick, their support was truly heartening.
As years passed, we got to know how far and wide the local AKU community is. Geographically from International Falls to Rochester, academically from private practices to tenured faculty and class wise from 1991 to 2015.
Knowing so many alumni over the years, we had been thinking of arranging a formal upper Midwest centered reunion for quite some time. The evolving role of AKUAANA especially motivated us to come up with a program that would connect the alumni and have a meaningful impact.
As the first step, we set out to find the exact size of the local AKU community. It turned out there are almost 55 alumni in Minnesota alone, with the following class distribution.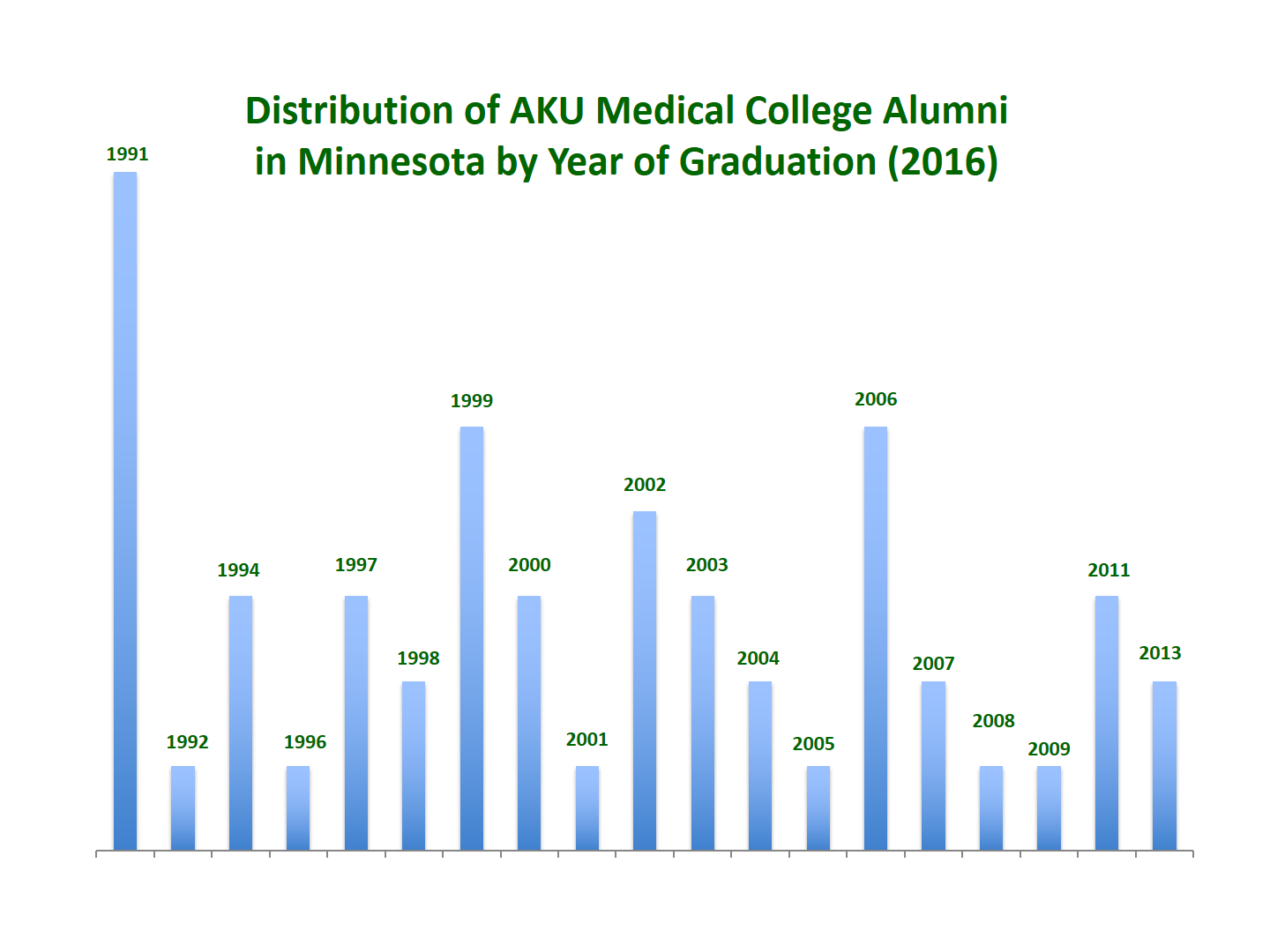 Getting encouragement from above, we planned a reunion on March 19, 2016 at Eagan Civic Arena, MN. We are very grateful to our alumni who took time to attend, in spite of unexpectedly cold weather and more importantly, the Pakistan-India T20 world cup match!
We were fortunate to have Dr. Irfan Altafullah (one of the founding faculty members in the division of Neurology at AKU) as a special guest.
The main event comprised of a series of presentations, with opening remarks and moderation by Tauseef Ur Rehman, '07. We were fortunate to have a very inspiring video message by Dr. Farhat Abbas, Dean of Medical College. A very special thanks to Dr. Abbas and the office of Alumni Affairs who took the time and effort to records his personalized message for the event.
Amin Rehmatullah ('91) shared community and social engagements by alumni, particularly Muslim Health Professionals of Minnesota. Sabeen Askari, '94, Secretary of MAPP (MN chapter of APPNA), presented the vision and activities of APPNA and MAPP. Ameer Khowaja, '06 discussed the objectives and initiatives by AKUAANA. He talked about how MN AKU alumni can be more integrated and take active role in projects launched by AKUAANA. Sani Kizilbash, '03 shared his initiative of 'AKU – Giving Back' and its impact in connecting current AKU students with AKU alumni. He also discussed other potential areas where the initiative can play a crucial role, such as career advancement and research opportunities. Last but not the least, concluding remarks were delivered by Dr. Irfan Altafullah. Taking the attendees back in time, he shared fond memories of the initial days of AKUMC with treasured pictures and stories of the student life of the most senior medical school class. All of this while attendees enjoyed food, desserts and of course, tea.
On behalf of the organizing team Tauseef Ur Rehman, '07, Zunera Tauseef, Ameer Khowaja, '06 and Rubina Sajwani, '08, we thank all the AKU alumni for their presence at the reunion. We hope that with each reunion, the AKU community in MN will become more organized and will be able to take more active role in local as well as national initiatives.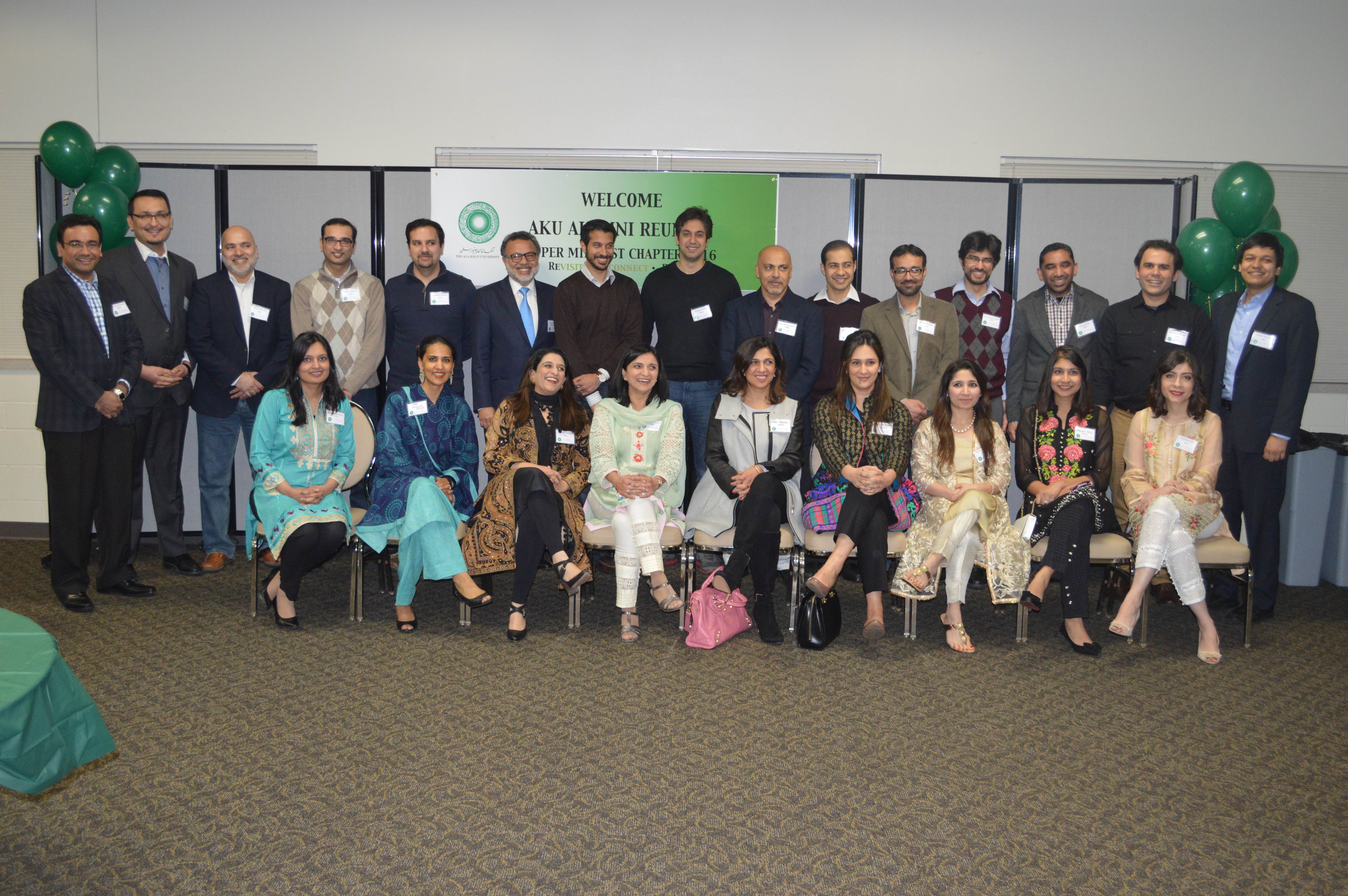 View the full album with pictures from the event at the AKUAANA Facebook Page.
For more recaps of Alumni Reunions, visit our Past Meetings page.